1. Canada is the best place in the world to live
Ranked by the United Nations as the best place in the world to live, Canada offers abundant education opportunities and a high quality of life. From a low incidence of violent crime and a comfortable population density, Canada provides international students with a safe, happy environment in which to get a college degree.
2. Canada's education system ranks among the best in the world
Even better, tuition fees in Canada are some of the lowest in all the English-speaking countries.
3. Canada boasts a multicultural society
Representing almost all the world's ethnic groups, Canada welcomes everyone. Ethnic foods and activities are plenty in Canada, and international students are encouraged to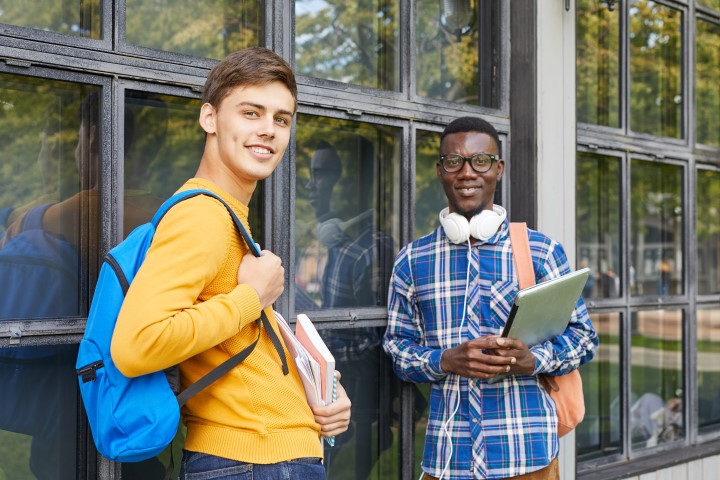 speak with their academic advisors to find out more about joining any number of ethnic clubs and associations.
4. Canada offers an excellent language education
Canada is a bilingual country; both English and French is spoken throughout the country. Teaching these languages is an important part of the Canadian education program, so you will be able to improve your fluency as you continue your studies.
5. Canada offers internationally recognized degrees
With a wide range of quality programs for both degrees and diplomas in technical and professional careers, Canada provides over 106,000 international students each year with quality education in its many colleges and universities. Meeting people from all over the world, and from your own country, is easy.
6. International students can work in Canada after graduation.
Students from other countries who graduate from a Canadian college or university can work in Canada for up to one year after receiving their degree. During their studies, international students can work on campus without a work permit.
7. Canada offers innovative and abundant research opportunities
Integral to the Canadian education system, international students can take advantage of many opportunities to become part of furthering research in telecommunications, medicine, agriculture, computer technology, and environmental science.
8. Canada is known for its healthy and safe communities
International students enjoy the same freedoms as native Canadians – respect for human rights, equality and a stable and peaceful society.
9. Canada experiences all four seasons
For international students who have never experienced all four seasons before, this is one of the most alluring reasons to attend college in Canada. Canada's big city atmosphere and naturally preserved park systems offer something for everyone, including indoor and outdoor recreational activities at low or no cost.
10. Immigration Possibilities
International students have the possibility of immigrating to Canada after graduation. International students who have Canadian credentials and work experience can apply for permanent residency without having to leave Canada when their schooling is complete.
Institutions in Canada
Acadia University
Alexander College
Algonquin college
Brock University
Canadian Flyers International
Cambrian College
Camosun College
Cape Breton University
Capilano University
Centennial College
College of New Caledonia
College of The Rockies
Concordia University – John Molson School Of Business
Concordia University of Edmonton
Conestoga College
Confederation College
Dalhousie University
Devry Institute of Technology
Douglas College
Durham College
Fairleigh Dickinson University, Vancouver
Fanshawe College
Fleming College
Fraser International College (SFU)
George Brown College
Georgian College
Herzing College
Humber College
International College of Manitoba
Kings University College At The University Of Western Ontario
Kwantlen University
Lakehead University
Lambton College
Langara College
Loyalist College
McMaster University
Memorial University of New Foundland
Mohawk College
Mount Allison University
Niagara College
North Island College
Northern College
NYIT – Vancouver
Okanagan College
Parkland College
Red River College
Royal Roads University
Selkirk College
Seneca College
Saskatchewan Polytechnic
Sheridan College
Saint Mary's University
St. Francis Xavier College
St. Clair College
St. Lawrence College
Lasalle College
Le Cordon Bleu
Thompson Rivers University
Trent University
University of Alberta
University of the Fraser Valley
University of New Brunswick
University of Waterloo
University Of Windsor
University of Manitoba
University of Prince Edward Island
University Of Regina
University Of Saskatchewan
University of Victoria
Vancouver Island University
Vancouver Film School
Vancouver Institute of Media Arts
Vancouver Premier College of Hotel Management